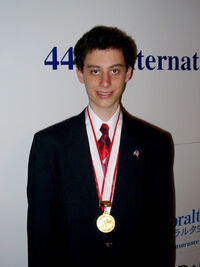 Anders Kaseorg is the tenth highest scorer in CC1 but is only the 38th highest scorer in CCLP2, as he has not finished all of its levels yet. He has made many contributions to the Chip's Challenge community, the most important one being The Chip's Challenge Corridor. It includes a web based newsgroup as opposed to the e-mail based one. He also hosts a Chip's Challenge FAQ on this site, which also provides a direct link to his ChipCap program. The site also contains a link to some older versions of Tile World, for which Anders designed the tileset that is still used by default to this day, as well as a preview video of the (long time) unreleased Chip's Challenge 2 that showcases the level Pigeon Holes.
There are also AVI solutions to all levels of CC1 and CCLP2 on his site, but because the content has been outdated, Mike L. took over from this and has since kept it updated.
Anders was also involved with the making of Chip's Challenge Level Pack 2 as the voting site administrator and was initially set to serve in the same capacity during the production of the upcoming Chip's Challenge Level Pack 3 but was not an active part of the community when CCLP3 production began. Instead, David Stolp was selected to serve in this position during the restructuring of the CCLP3 staff in February 2010.
He has one level set, AndersK1, which includes the CCLP2 level BlockSlide.
Interests
Along with the famed David Stolp, Anders is a math phenom and won a gold medal in the 2003 International Math Olympiad, scoring 32 points out of 42. His picture on this page shows him posing for a picture, wearing his gold medal.
Community content is available under
CC-BY-SA
unless otherwise noted.