Stripes? (spelled with the question mark) is the 143rd level in Chip's Challenge 1. Upon playing the level for some length of time, it is apparent that the invisible walls which make up this level are roughly arranged in a "stripe" pattern, which sometimes allows Chip through to collect more chips. There are eighteen "stripes", each broken somewhere, and some with chips and some without. A full map of Stripes? illustrates this pattern: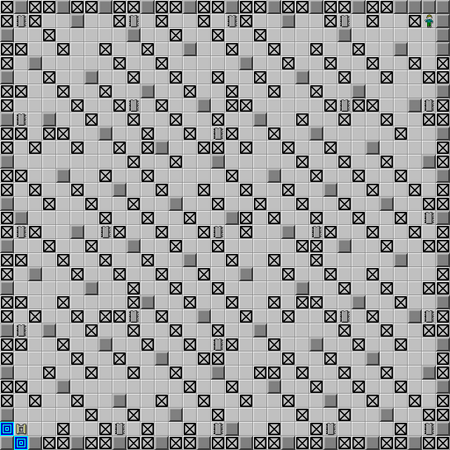 The full route to Stripes? will be given, since this is a long maze level:
D 5L UL 6:RD U 4L (4:UL L 2D 3:RD) 3:RD D 2L U 2L D 5:DR 14:LU 4:DR 2D 2L (3:UL 3L 3:UL) 11:RD 3D RD 5:UL (6:UL LD 4:DR) 3D 4:RD D 2L 8:UL L (2L 3:UL 3U 7:UL [2U 2R 7:DR] 2L 3:LU) 5D RD 2R (2R 7:DR) 2D 4:RD (D 2L) 18:UL L (U 3:UL 2L D, 2D 11:RD 3D R 2D 2L 7:UL) 3L 2D R 2D (2R 10:DR) 2D 3:RD DL 4:LU 2:DR 4D 5:RD (4R 3:DR) L 2D RD 7:UL R 4D R 3D 3L.
Walkthrough
Community content is available under
CC-BY-SA
unless otherwise noted.