Thanks to...
Level set
Chip's Challenge 1
Level number
145
Password
TONY
Hint
Special thanks also to the WEP 4 test team!
Chips required
0
Chips available
0
Time limit
---
MS
Bold time
991, T-Chip time
Difficulty
*****
Bold difficulty
*****
Bold complexity
*****
Lynx
Bold time
988, T-Chip time
Difficulty
*****
Bold difficulty
*****
Bold complexity
*****

Thanks to... (spelled in lowercase; the only level in this set to be as such) is the 145th level in Chip's Challenge 1. It is one of the secret levels, as well as a Credits level, in the Microsoft version of CC1 that can only be found by typing in its password; fortunately, it requires absolutely no effort to complete. The significance is that the level is a commemorative, thanking the people who converted the game from the original Lynx version to the popular MS version.
Ed H. is probably the artist Ed Halley; the other three names are not known. The TONY mentioned in the password could be surnamed Garcia or Krueger, and is generally assumed to be the former. Tony Kreuger was the MS version's author, which is mentioned along with Ed Halley's name in the About Chip's Challenge popup accessible from the Help menu.
To complete the level, slide on the ice and play between the DOUG and T. to reach fire boots and then down to the exit on [31, 31] (which has a "P.S." hint next to it), or use the AVI solution to win in 8 seconds, but risking Chip's life. The probability of the optimal solution's success is 9/1024: three random force floors must all move Chip D, and the other two must face any direction but D so Chip can override them.
Trivia
If the player carefully looks in an earlier level editor or uses the newer CCLD, a map such as the one shown above reveals that there are five ice spaces under other ice spaces, which is illegal in Lynx; however, this level doesn't appear in the Atari Lynx version of the game. They can be found on the grid at coordinates [0, 25], [5, 26], [10, 27], [19, 28] and [27, 29].
In the Lynx version, this level does not exist; however, it comes with its own surprise: entering the password MAND will bring up a fractal generator. In the original Lynx version, Cake Walk was simply level 145, but in Tile World's Lynx version, a hole is left in that slot and the Mandelbrot fractal is not shown either.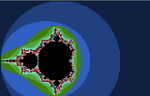 In the Lynx version, the entry in the password table for level 145 is YBLI. Entering this displays the victory sequence.
Walkthrough