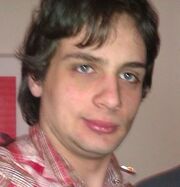 Tom Patten (Also known as AdrenalinDragon and Tom P.) is a Chipster from England, a level designer and the founder of CC Zone.
Tom has created three level sets, each with 149 levels. His first set, TomP1, was released in 2002. The set begins with short, simple levels, but, as the set progresses, there are more skill and luck based challenges to the point of excruciating difficulty. Mostly all of the later levels contain monster dodging with some minor puzzles. rockdet did an LP of this set, and, while he praised some levels, he did not enjoy the amount of luck and guesswork involved. For level 144, Nightmare on Block Street, he stated "You should be arrested, Tom, for making such crap!". His second set, TomP2, was released in 2003, and is very similar in style to TomP1. His third set, TomP3, was released in 2007. There is a Lynx-compatible version of the set available as well. This set is still similar to the previous two, but the level quality is improved. It includes more clever puzzle concepts and reduces the amount of guesswork and luck that plagued the previous sets. It ends with the famous Final Destination. Tom is currently working on TomP4.dat, which will be heavily story based and set after TomP3.
In August of 2008, Tom founded the Chip's Challenge forum CC Zone, which is currently a popular alternative to the Chip's Challenge newsgroup. It encourages community involvement by holding both time trial competitions and level designing competitions. After a brief demise in 2011, he revived CC Zone in 2012 as CC Zone: The Next Level, which would later become the primary location for Chip's Challenge Level Pack 1 voting in 2013.
On 13th March 2015, Tom announced his resignation as Site Owner and Administrator of CC Zone.
Levels in official packs
CCLP1
CCLP3
Trivia
Tom's favourite Chip's Challenge level of all-time is Icehouse.
Community content is available under
CC-BY-SA
unless otherwise noted.